Ended:
open run (as of June 2015)
Company/Producers:
Terzetto LLC, Catherine Russell, Al Parinello
Theater:
Snapple Theater Center - Jerry Orbach Theater
Website:
fantasticksonbroadway.com
Review:
Q: What's the only Off Broadway show to have ever won a Tony Award?
A: The Fantasticks, in 1992.
After a brief scare that the production would close in May, this most delightful of little musicals has gotten a reprieve. Two devoted fans, who insisted on anonymity, vowed to contribute the money that's necessary to keep The Fantasticks open. A thousand blessings on their hearts and wallets.
This is, of course, the unlikely show that's lived, more than once, to sing and dance another day. A New York fixture at the Sullivan Street Playhouse from when the production first opened in 1960, the doors finally closed in 2002. The musical was later resuscitated and opened at the Snapple Center in 2006. This is the gentle story of two kids who fall madly in and out of love, and decide that they need to experience the world more than they need to stay together. Little do they know of the plan hatched by their fathers, who trick their kids into falling in love by telling them they mustn't. The score features popular songs which, no doubt, are familiar to many who have no idea where they originated. "Try to Remember," "Soon It's Gonna Rain," and "They Were You" are now classics.
The setting is familiar, just a burlap-looking curtain, a bashed-up old trunk, and a stick held up by a voiceless mime. Each performer brings distinction to the role at hand. Drew Seigla looks like a young Andy Samberg and infuses Matt with a wry humor. Joseph Dellger (Hucklebee) and Donald Corren (Bellomy) make us laugh and evoke our sympathy as the two dads whose bromance is nearly ruined. Aaron Wright's expressive face makes up for his lack of lines; he adds acrobatics to the role, and strikes just the right tone in his relationship with the young lovers and El Gallo. No one ever died better--or longer--than Michael Nostrand as Mortimer, and as for McIntyre Dixon's Henry, we will always see him in light.
Two performers particularly stand out. Edward Watts has brought sexy back to El Gallo. Watts brings to mind another silver fox, Eric Dane, and makes it easy for us to understand how Luisa could fall under his spell. He's got a great voice, but with a sure sense of control doesn't blast the tiny theater. El Gallo is a puppet master, con artist, and thief, but Watts manages to instill a real sensitivity along with the swashbuckling.
Incidentally, if you really want to know what it takes to be a working actor, check out Watts's biography. It's not all Red Carpet Reality; it's going from Minneapolis to Dallas to D.C., as well as Broadway and Off Broadway. But it all pays off to become a professional who can hold an audience in the palm of his hand, as does Edward Watts.
At the other end of the spectrum is Madison Claire Parks, who's making her Equity and New York City debut at just 19. As Luisa, Parks is blonde and delicate and simply lovely, and any red blooded male would fight a brigand to win her heart. Her voice is classical trained, and thrilling to hear. Parks has such natural talent and presence, it stands to reason that she comes by her gift naturally.
Her still-gorgeous mom, Karen Culliver, played Luisa at Sullivan Street for over a year in 1984-85 and is in the Lincoln Center Archives for the 25th anniversary taping. As far as I know, this is the only instance of a mother/daughter duo of Luisas in professional theater. Let's hope that someday we can see "Maddie's" daughter taking over the role.
Her dad's side of the family is not to be outdone. Beloved Grandma was the actress Betty Garrett; Granddad was "The Jolson Story" star, Larry Parks, who passed away before his granddaughter's birth. At the performance I attended, mom and dad were in the audience, justifiably proud, and showing their support for their daughter, as they always have.
Why revisit The Fantasticks? It's a show that's truly for the whole family, wholesome and much more interesting for the kids than texting. The "Rape" number has long since been scrubbed for the production and is now replaced with words like ravishment and abduction. I ignorantly thought everyone in the world had seen the show, only to learn that my companion never had, nor had several others in attendance.
The current cast is particularly good at keeping a sense of reality and intimacy. And who knows? You just might catch a star on the way up. Ladies, two words- Edward Watts. We live in such a cynical world, sometimes we forget that no matter how old you are, there is nothing like romance. Here it is, unashamedly and beautifully presented, and even after all these years, more than a little Fantastick.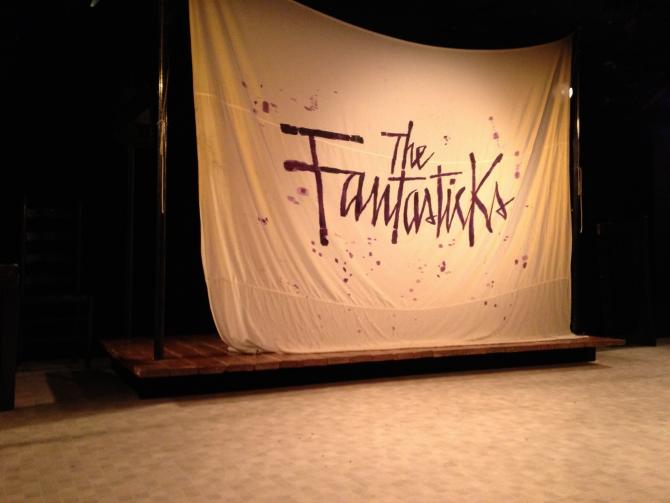 Cast:
Edward Watts (El Gallo), Drew Seigla (Matt), Madison Claire Parks, Donald Corren (Bellomy), Joseph Dellger (Hucklebee), MacIntyre Dixon (Henry), Michael Nostrand (Mortimer), Aaron Wright (Mute); Musicians: Robert Felstein (piano), Maria Banks (harp)
Technical:
Set/Costumes: Ed Wittstein; Lighting: Mary Jo Dondlinger; Sound: Domonic Sack; Musical Direction: Robert Felstein