Even if the line of dialogue you couldn't wait to quote after Chris Hainsworth's adaptation of Monstrous Regiment for Lifeline Theater was "Things couldn't get any worse if it were raining arseholes," a more accurate summary of Chicago theater in 2014 might be "ars victrix"—in English, "art endures."
The year may have been marked by long-existing companies folding their tents and prominent figures in the community departing—some timely, some untimely (one of the latter name-checked on a major television series barely a month later)—for that Great Greenroom in the Sky, but new artists opened new enterprises in new spaces to ensure that the dynamic experienced only in live performance continued beyond the brief life-spans of those whose lives were dedicated to its creation.
All said, it was a year of ups and downs, sometimes occurring almost side by side. Here are some of both:
BRAINY WOMEN
THE UPSIDE: Megan Carney's Women At War (Rivendell) and George Brandt's Grounded (American Blues) broke from wholesome girl-scout and Skyping-mommy stereotypes to depict women in the U.S. Armed Forces as individuals with the same concerns as their male counterparts.
THE DOWNSIDE: Sarah Breem's The How and The Why (Timeline) presented us with two top-girl scientists still preoccupied with boyfriends and babies, while Philip Dawkins's Miss Marx (Strawdog) reduced the daughter of the Socialist Movement to a lovesick damsel undone by an abusive cad.
BIG SPECTACLES
THE UPSIDE:
Sean Graney's panoramic vision was displayed at its fullest by All Our Tragic, a 12-hour adaptation of all the surviving Greek Tragedies inaugurating the Hypocrites' residency at The Den.
THE DOWNSIDE: Meteorological factors sabotaged Red Moon's riverfront Great Chicago Fire pageant and crippled several light boards during the first warm days of summer.
FILIAL PIETY
THE UPSIDE:
Aaron Posner's adaptation of Chaim Potok's My Name is Asher Lev (Timeline) and Ena Lamont Stewart's 1947-vintage Men Should Weep (Griffin) made a case for children being creatures to be loved and cherished, while Samuel Hunter's Rest (Victory Gardens) did likewise for aged parents.
THE DOWNSIDE:
Lorelei Sturm's adaptation of Charlotte Perkins Gilman's The Yellow Wallpaper (The Mill) and Caitlin Parrish's The Downpour (Route 66) presented us with two horrifying cases of post-partum depression, and Peter Nichols's A Day In the Death of Joe Egg (Stage Left) warned of marital stress associated with caring for a severely disabled child.
SMART ENSEMBLE TEAMWORK:
Foursome Dierdre O'Connell, Caroline Neff, Zoe Perry and Martha Lavey in The Way West (Steppenwolf); threesome Kirsten Fitzgerald, Natalie West and Mierka Girten in Mud Blue Sky (Red Orchid); and twosomes Darrell Cox and Lia Mortensen in Annapurna (Profiles) and Kareem Bandealy and Michael Patrick Thornton in Othello (Gift Theater).
SMART PLAYS:
El Incas (Collectivo el Pozo), Seminar (Haven Theater), Love Tapes (The Inconvenience), From White Plains (Broken Nose), Ghost Bike (Buzz22).
OLD-SCHOOL DRAMA:
King Hedley II (Congo Square), Vieux Carré (Raven), Saturday Night and Sunday Morning (Prologue), Our Class (Remy Bumppo).
NEW LOOKS AT CLASSICS:
Calamity West's Doll's House Project (Interrobang) and Aaron Posner's Stupid Fucking Bird (Sideshow).
SPECIAL OLD-TIME RELIGION DIVISION:
Jacob (Provision Theatre), The Lark (Promethean) and Saint Joan (ShawChicago).
SMART MUSICAL MOMENTS
Rebecca Finnegan in Sweeney Todd (Porchlight), beefcake Anvil Chorus in Il Trovatore (Lyric Opera), clever mash-ups in Dee Snider's Rock and Roll Christmas Tale and the ubiquity of the Vitamin String Quartet as a source of incidental music qualified as cool moments.
SMART DIRECTORS
Jennifer Markowitz for Hellish Half-Light (Mary-Arrchie), Toma Tavares Langston for Dead Man's Cell Phone (Enthusiasts) and Matt Hawkins for The Arsonists (Strawdog) are this year's honorees.
SMART TECH
Check out the Thalidomide Kid painting in Joe Egg (Stage Left), sewing machine in Intimate Apparel (Eclipse), bicycles in Ghost Bike (Buzz22), fake cigarettes in Ecstasy (Red Orchid) and the breakaway wall in Monstrous Regiment (Lifeline).
SPECIAL STEAMPUNK DIVISION:
Jane Eyre (Lifeline), Rosencrantz and Guildenstern Are Dead (Promethean)
SPECIAL BOAT-IN-THE-BOTTLE DIVISION:
A Tale of Two Cities (Lifeline), Crime and Punishment (Mary-Arrchie), Great Expectations (Strawdog)
SPECIAL FLORA AND FAUNA DIVISION:
Brutus the fighting fish in The Clean House (Bluebird) and Widget the cat in The Lieutenant of Inishmore (AstonRep)
SMART ACTORS
Kristin E. Ellis in The Inside (MPAACT), Frank Nall in The Late Henry Moss (Artistic Home), Ron Keaton in Churchill (SoloChicago), Chris Walsh in Monstrous Regiment (Lifeline)
SPECIAL BEYOND THE CALL OF DUTY DIVISION:
Linda Gillum in Both Your Houses (Remy Bumppo)
SPECIAL MICHAEL SHANNON STARWATCHER DIVISION:
Alex Weisman, Caroline Neff, Dan Waller
SPECIAL AARP PIN-UP DIVISION:
Dennis Newport in Trafford Tanzi (Prologue)
[END]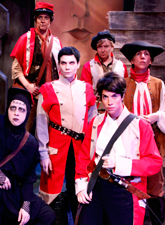 Monstrous Regiment
Publication Credit:
This article first appeared in Windy City Times, 1/15