Elizabeth Ashley is one of the most acclaimed actresses of her generation. Born in Florida but raised in the deep South of Baton Rouge, Louisiana, once she made the decision to come to New York, her dazzling (and some have said seductive) beauty, gorgeous legs, an aura of mystique, and unique, rapid-fire voice dripping with Southern Comfort and mint juleps infused with magnolias, got her quickly noticed and cast in major roles.
 Ashley fell under the spell of Sanford Meisner, and he fell under hers at the famous Neighborhood Playhouse. After a period of careful grooming, Meisner chose Ashley to play Esmeralda in the mid-60s in the Playhouse production of Tennessee Williams's Camino Real, which began her artistic love affair with Williams and his with her. He found her to be his "perfect Southern belle to play my Southern belles."
Miss Ashley made her Broadway debut in Dore Schary's short-lived 1959 holiday drama, The Highest Tree, which featured Robert Redford in his first original role; TV, making her debut in an episode of the anthology series, "The Dupont Show of the Month," "Heaven Can Wait" (not to be confused with the same-named Harry Segal play that became the film, "Here Comes Mr. Jordan," later remade as "Heaven Can Wait" -- though it has unique similarities), co-starring opposite Anthony Franciosa, Joey Bishop, and Wally Cox), and Off Broadway, where she made her debut in 1967 in Tennessee Williams's The Milk Train Doesn't Stop Here Anymore opposite Marian Seldes, Stephen McHattie, and Amanda Plummer.
Her career took off like wildfire, and Miss Ashley became triumphal on stage, in film, and on TV. Superlatives flowed like milk and honey: dazzling, seductive, outstanding, [possessor of the] loveliest pair of legs, entrancing, cosmically/dexterously comical, pert, captivating, profound.
On Broadway, she won a Tony for Best Featured Actress in a Play for Phoebe and Henry Ephron's 1961 comedy, Take Her, She's Mine, directed by George Abbott and co-starring Art Carney and Phyllis Thaxter. Less than a year later, she was Tony nominated for Best Actress playing opposite Redford, directed by Mike Nichols, in Neil Simon's nominated hit, Barefoot in the Park. She landed on the cover of LIFE magazine, heralded as "Broadway's brightest."
Then, while continuing to garner acclaim on the stage and working consistently in New York TV (with the likes of Jack Carson, Arlene Francis, Keir Dullea, E.G. Marshall and Ossie Davis), Ashley was Hollywood bound and bound for important roles.
In 1964 and 1965, she hit pay dirt in film adaptations of two best-sellers: Harold Robbins' "The Carpetbaggers," nominated for a Golden Globe (where she fell in love with co-star George Peppard, who became her second husband); and Stanley Kramer's film of Katharine Ann Porter's "Ship of Fools," nominated for a best-picture Oscar. The all-star cast was headlined by Vivien Leigh, Simone Signoret, Lee Marvin, Oskar Werner, George Segal, and José Ferrer. Ashley proudly recalls, "I was hot, and I was in heaven! It couldn't have been any better."
The actress isn't that easy to keep up with in conversation, as her mind runs on high octane on several subjects at the same time. An interviewer wrote: "Conversing with Elizabeth Ashley is a bit like being pelted by a South Louisiana hurricane." That said, she's totally unassuming, considerate, not the least bit full of herself, and oozes with the charm that's a throwback to her Southern roots. And, as you might expect, she's quite opinionated.
"I've been in the show biz rackets for a while," she points out. "You can ask me anything, but be warned, I'll answer, and usually in the spirit in which it was asked. I learned, for better or worse, that my most dangerous weapon is my mouth." Certainly, Ashley is a woman who knows where she's been and makes no effort to deny where she is now.
For five decades, Ashley has been in consistent demand in film, TV, and on Broadway. Tony-nominated for her Maggie in the 1974 Cat on a Hot Tin Roof revival, she later joined the cast of Agnes of God as Dr. Livingstone. Four years ago, at Playwrights Horizon, she performed in Edward Albee's Me, Myself & I. Most recently, she portrayed Mattie Fae later in August: Osage County's run and has had a most satisfying time in the recurring role of Aunt Mimi on the TV series "Treme," set in New Orleans.
Miss Ashley is currently garnering huge laughs as Grand Duchess Olga in the madcap revival of Kaufman and Hart's Pulitzer Prize-winning, You Can't Take It with You opposite James Earl Jones, Kristine Nielsen, Anna Chlumsky, Richard Thomas, and Annaleigh Ashford. We spoke between shows on a recent Wednesday at La Messeria, across from the theater.
"I'm kind of a misfit in show business," claims Ashley. "For instance, even when it might have proved beneficial, I never employed a personal press agent in my 55 years in the show racket. I don't give a flying leap about all that image stuff. I've just always been me. However, I'm doing this in person and between shows because it's part of my job to do what's necessary for whatever show I'm in.
"In my role of the Grand Duchess Olga," she continues, "I'm slathered with pounds of make-up and eyelashes. It's quite grotesque, especially at close range, anywhere except on the stage. Consequently, that's the reason I wanted us to do a phoner. I wasn't that excited about coming out between shows to do this [she flounces her bountiful hair about] because I didn't want to shock anyone. Furthermore, if I take off my glasses, I'm blind as a bat, too. But you were insistent on doing this in person."
This was true. The in-person interview is a thing of the past. But, doing a phoner, you're not face-to-face with the personality you're talking to. All you get are sound bites for 15 minutes. And, soon, you'll see why interviewing Miss Ashley in person was vital.
You keep retiring, but you keep returning. "Well, I had an extraordinary, wonderful, interesting, sometimes dangerous life. There were times I walked away. Not that it was smart - not that I didn't live to often regret it. Many found breaking away strange, peculiar, and awkward. Today, if you do that, the gossip of the chat room tongues is that you're in rehab or undergoing plastic surgery, neither of which I've ever done."
Ashley lives in New York near Union Square. She doesn't lead an extravagant life and has never been too mindful of her public image. "The only thing I ever minded was the time in the 80s when there were massive, savage rumors that I was on drugs. Being quite the disciplined person I am, that really pissed me off." Ashley points to her margarita on the rocks and says, "This is as close as I've ever come. And I don't mind taking a quick sip. Actually, I'm going to have a slew of sips!"
The actress admits she was dangerously reckless. Though she has some regrets, she doesn't look back with regret. It's no secret, even to her, that she had a long ago reputation of being a rebel and "the black sheep of the American theater. In my younger years, when the rest of them [referring to stars too focused on their careers] were sitting in Sardi's or in the Polo Lounge in Beverly Hills waiting for calls from their agents, I was on a plane with The Who, having a blast with Roger [Daltrey] and Pete [Townsend]. In my 30s, I circumnavigated the globe in my sailboat - twice. It was the best life ever."
Many found it odd when a star of her caliber just put her career aside "to go my merry way and live. In our capitalist world, that's not mythologically fulfilling the American dream." You can do things like that, she says, "When you have youth on your side. But that's long past. However, when one runs out of money, one has to consider finding work. I'm 75. By the time one's in their late 50s or early 60s, one's just physically too old to do a lot of roles that might be offered. So, when the right role comes along, there's the stage. And I have always loved the stage."
Success was intoxicating. "Winning the Tony when I was so young was a double-edged sword. It was exhilarating, but it made me crazy and led to a nervous breakdown. Mother, still strongly believing in discipline, told me that success and achievement have nothing in common. She said, 'Success is a two-dollar whore. Achievement is a lifetime of built on character and integrity.'"
She has learned one of life's hardest lessons, to face facts that are staring you in the face. In terms of performing, she states: "I'm utterly in awe of great film actors, but no matter how good you are, the camera only captures what you do, not what you feel and think. We're fortunate in theater. We have audiences to bounce ourselves off of. As much I've enjoyed doing film and TV, I'm drawn to the intimacy of the theater. It's the only thing in the show racket that I'm any good at. So why not return to the boards? And do I have to tell you the joy I'm having working in this wonderful farce with James Earl Jones and a supremely lovely cast?"
Some might be surprised to hear Miss Ashley claim that she's a loner. "I always have been. That's one reason I love the private sanctuary of the theater." After a long, reflective pause: "I know. Knowing me, that sounds truly alien and sort of antithetical to logic and my way of thinking. Considering my past, I'm shocked to hear myself admit that I'm old school now."
Miss Ashley wasn't a theater kid. "I was never in the drama club or one of those kids running to audition for plays. I was a ballet kid. There was this great Russian ballet teacher who moved to New Orleans so she could be in a warm climate. I studied with her. This wasn't a toe-tap school but had rigorous training in the Bolshoi style. Mother thought it would make for good discipline. So, from age five to 17, every day when I got out of school, I danced. I wasn't bad. I tried out for the Houston Ballet when I was 14.
"That training gave me some a kind of instinctive understanding of the physical sense of working in a contained space," she continues. "I was in my late teens into early 20s when I began working in theater. That discipline helped me maintain the focus and energy you must have."
After the aforementioned Camino Real at the Neighborhood Playhouse, Ashley did a season of summer stock at Westport and then appeared in Dore Schary's short-lived 1959 The Highest Tree(21 performances). "The only person who liked the show was Eleanor Roosevelt, who wrote a column about it in the New York Post. Didn't help."
She next understudied the lead in Sidney Sheldon's (yes, that Sidney Sheldon) even more short-lived 1960 Roman Candle (five performances). But some good luck was coming her way. She understudied Barbara Bel Geddes in Mary Kerr's 1960 comedy Mary, Mary, "where Cloris Leachman, who was the standby, and I never went on because Barbara swore she'd never miss a performance. And she didn't!"
Of course, it never hurts to have champions. Instead of going "eight thousand flights up to my assigned dressing room, I'd hang in the wings sitting on a stool. Producer Roger L. Stevens, an elegant, quite a tall drink of water, would pass me and talk to me. No one ever spoke to the understudies. He had mentored one of our greatest actresses, Kim Stanley, whom I idolized in my youth. In 1961, in one three-month period, I saw Kim Stanley in A Far Country and Geraldine Page in Sweet Bird of Youth. That was the epiphany that changed my life. No one had affected me that way since I saw Marlon Brando in (the film) `The Wild One.'" In fact, Ashley says being cast opposite Page in Agnes of God was a career highlight.
Stevens, Kerr and husband Walter, the noted and powerful theater critic, adored her. They mentioned Miss Ashley to producer Hal Prince and playwrights Phoebe and Henry Ephron, who had her audition for director George Abbott. She got the role of Molly in Take Her, She's Mine. "Lo and behold," she exclaims, "can you imagine winning a Tony Award as best supporting actress!"
However... "Isn't there always a 'however' or a 'but' or a 'well'?" Miss Ashley quips. "And in my life, I've had all three. Success brought me much more than I bargained for, much more than I could handle [e.g., depression, a nervous breakdown]. It was unreal. When you're that young and you don't know anything about anything, and all that stuff happens to you, it's thrilling.
"You have no idea how abnormal it is," she goes on. "I'd never been north of Georgia. I hadn't been in the trenches for years, the way artists must do. I had no frame of reference. Bottom line, I was pleased as punch. I didn't have to go on unemployment or head back to the Village to wait tables at Café Figaro."
She talks about her family, which she described as "a peculiar Gothic Southern family right out of Carson McCullers. We knew our ancestors all the way back to the 1700s. There were generals in the Civil War. Mother used to say, "They're all fools, living in the past. The Depression passed them by. They just didn't happen to notice they were hungry.'"
Miss Ashley was an only child "madly, wildly dyslexic" but labored long and hard to teach myself how to read. "I'd always loved books and devoured books. I read a lot of Hemingway. All I wanted to do was be a wicked adventuress. However, first I had to find out how wicked you had to be and find out what precisely what that entailed. "
Even though she graduated from high school and went to LSU for a semester, "Down deep, in some subliminal way, I knew I wasn't qualified to do anything in life. There was nothing for me except to marry Carrol Robert Reinhart Reagan from Magnolia, Mississippi, and I knew that was not going to work out. I was never a debutante. Rich girls could do whatever they wanted, but poor girls either got married, or went to ballet school or acting school. And so I went to New York."
As she was blazing a path on Broadway, she met and "fell madly in love with handsome James Farentino. We were married in 1962." He was a year older and both were on their way up, though she might have been on a faster spiral than him. "In no time it went from divine to not so divine," she states. (The marriage ended after nearly three years.)
Enter another champion: Neil Simon, already hot as a top TV writer and with two hit shows under his belt. Less than a year after Take Her closed, he cast Miss Ashley as Corie, written especially with her in mind, in 1963's Barefoot in the Park, directed by Mike Nichols and starring opposite hot property Robert Redford. Another hit, another Tony nomination, this time for Best Actress, which she didn't win. But she was hot. She landed on the cover of LIFE magazine, heralded as "Broadway's brightest."
It was a short but tough route to success. "My God, what didn't I do? I slung hash at every coffee house in the Village. I was a hat-check gal at this mafia joint. I sailed through Gertie's, the Fat Black Pussy Cat, all of them. I was working at the Bottom Line before it was the Bottom Line. I was there the first night Dylan played New York! Joanie Baez, who was a bit of a Queen Bee, when she wasn't singing about all this gloom, she was chatting up the waitresses about this guy Bobby.
"Finally, he walks in," she continues, "totally nondescript. It was hoot night, and they announced this kid named Zimmerman. He wore a train engineer's cap. We wondered what was wrong with his neck. Nothing, of course, but we'd never seen anyone with a mouth harp strapped to his neck. When he started to sing, he blew everyone out of the joint."
Ashley stops to sample some of La Masseria's prosciutto and grab a fingerful of salad. "I lived in Italy for a year and half in the mid-70s, so I eat with my hands." She excitedly talks about the Village 60s scene. "Everybody was there. Peter, Paul, and Mary before they were Peter, Paul, and Mary. Cosby would come from Temple University weekends and do free-range monologues. I knew about eight chords on a Martin Guitar and would get up and sing because you always got bigger tips."
She takes a deep breath, has another sip, and gushes, "It was before hippies and at the tail end of Beatniks. Everyone was family. Tom Paxton, Gil Robbins [Tim Robbins's father]. who sang folk songs and managed the Gaslight Café on MacDougal, and so many more."
After Barefoot in the Park, Hollywood began to pay attention. Broadway raves led to "a highly emotive film debut" in Harold Robbins trash-soaper "The Carpetbaggers" (1964), headlining George Peppard. Critics trashed the movie, audiences rushed the box offices, and Miss Ashley was nominated for a Golden Globe for Supporting Actress.
Peppard was rumored to have shown up drunk and loud at the door of co-star Carroll Baker, who was quite a sizzle. He's said to have proclaimed he wanted to bed her. When Miss Baker threatened to call the police, Peppard swore if he couldn't have her, he'd bed Miss Ashley. "And he was a man of his word," she states, "thereby ruining both our marriages."
In 1966, divorced from Farentino, "I married a movie star 11 years older than me because I was looking for a father. Big mistake! Granted, he was gorgeous. Maybe too gorgeous! And good for breeding. But I believe it was doomed from the start."
Nevertheless, she became step-mother to his two children, and they had a son, Christian. Miss Ashley took another "break not only to focus on domestic life but to develop motherly instincts."
The marriage, which lasted six years, went from bliss to volatile. After their divorce, Miss Ashley married again, to a Jimmy McCarthy. "He wasn't in any aspect of the business," she says. "I thought that would make a difference. It didn't." After almost six years of trying to make it work, they divorced.
"I never married anyone I was madly in love with," says Miss Ashley. "Except for my first husband, Jimmy Farentino! He was my favorite. I always married on the rebound to try and straighten my life out and do something sensible. That only made it worse."
Stanley Kramer cast her as Jenny opposite George Segal as her depressed, artist husband in his all-star adaptation of Katharine Ann Porter's "Ship of Fools," which takes place on a ship bound from Mexico to Germany with a cargo hole filled with 600 workers being deported to Spain. Ashley caused a sensation doing an uninhibited flamenco with famed dancer Jose Greco and his troupe.
From 1960, for over 30 years, the actress worked literally non-stop. After appearing opposite friend Burt Reynolds in his series, "Evening Shade" from 1990-1994 (where she was nominated for an Emmy in 1991), save for occasional TV guest stints, she literally walked away. It was hard to recapture the momentum, but the stage beckoned.
"Once again," she sighs in her husky voice and says, "I found my sanctuary. I love the theater. I like the people that work there. There's a kind of spirit about the place. You become a part of a family."
In 1974, Ashleys' friend, Tennessee Williams, director Michael Kahn, and the esteemed producer Robert Whitehead tapped her for a return to Broadway as Maggie in a limited engagement revival of Cat on a Hot Tin Roof that proved smoking hot at the ANTA Playhouse (now the August Wilson Theater). "Maggie was supposed to be sensuous as she temps Brick (Keir Dullea)," states Miss Ashley, "and my job was to give every man in the audience a hard-on." It was quite satisfying for Miss Ashley when, in the New York Times, a champion from her past, Walter Kerr, wrote that he deemed the revival better than the 1955 original.
Next came Ashley's much-acclaimed Sabina in Thornton Wilder's The Skin of Our Teeth and playing opposite Rex Harrison in Caesar and Cleopatra. Miss Ashley was declared the essence of excellence in the world of performing arts.
However, devastating setbacks tested Miss Ashley's mettle. In the early 80s, a few years after her return from Italy, while again enjoying her passion for sailing--as she'd previously done earlier with a ragtag bunch of sailors--Vietnam vets and Rastafarians, she was in a horrendous crack-up in the Caribbean that shattered her jawbone, which had to be wired as a temporary fix. She was plagued by massive headaches, which was nothing compared to six years of restoration surgeries. "My whole upper jaw is like a titanium alloy!" she revealed.
This was a break she wasn't prepared for. Times were so tough, she became dependent "on my terrific son," who had gone from film writing out of NYC Film School to bartending. The accident and medical procedures changed her looks. "But," she admits, 'I knew my 'sex object' days were numbered. Still, I was fortunate that Mother lectured me on the dangers of vanity."
It's still painful to speak of the 1977 assault incident that left her highly traumatized. Miss Ashley was beaten and raped by three drunks at an abandoned gas station near Bakersfield, CA. It took her 16 years to make it public--when she testified at the trial of a friend who'd been raped.
At the Longacre, Miss Ashley says she can't get to the theater soon enough. "I live in horror of being late--a throwback to my years doing ballet." She arrives early and has a programmed backstage ritual while she waits to go on in Act Three of You Can't Take It with You. It consists of chain smoking in the smoking lounge or in the alley leading to the stage door, doing yoga on her mats, fiddling with her laptop, listening to Sirius Radio, and reading books on her iPad. She snacks on Ritz crackers and chicken salad.
She's still mulling over writing another memoir. Her 1978 "Actress: Postcards from the Road" proved to be quite successful. "It was a New York Times bestseller, which I never thought would happen. I think it helped that people knew my name. I was a tabloid queen before there were tabloids. I was once even in Confidential."
In 1999, while gathering material for the planned sequel, she had all her mementos shipped from storage to her New York loft. The apartment was destroyed in a fire. Everything literally went up in smoke. Well, almost everything. Firefighters found more than $10,000 in a duffel bag that almost escaped total destruction. Miss Ashley had to face up to the fact that she was responsible. It was determined that the blaze was caused by a smoldering cigarette which she had thrown in a trash can on her way out to breakfast. She credits "my wonderful young, computer-savvy assistant" for recovering some artifacts by scouring memorabilia shops and the internet in an attempt to replace photos and print articles that she thought were lost forever.
Today, she finds it hard to remember that she "was often whatever version of an iconoclast or an outlaw that was in favor in the various decades. I never minded. It was undoubtedly true. It wasn't my ambition. I'm arrogant and I refuse to lower myself to answering to anything said or written about me. At all. At any time."
There were slow times, and she also retired twice for two and three years at a time. "Everyone told me it was no way to run a career, and they were absolutely right. But it wasn't a ruinous way to run a life. I can tell you that. One must do what one must to scale one's psychological labyrinths and the challenging circumstances in life."
Miss Ashley says that she owns a cell phone "or the devil phone as I call it," but isn't into all the social media. "I look at the time people waste doing that and think of it as stolen time. I've never seen the phone as a social instrument. Between jobs, actors are held hostage, always hanging by the phone waiting for the call. That's not me. I know it's no way to run a career, but the minute I'm out of work, I flee. I get as far away from civilization as I can."
Looking back over the decades of her career and her checkered personal life, Miss Ashley say, "I regret much. I atone for nothing."
Time for another sip of her Margarita. "A quick sip," she says, still going strong. "Many quick sips! Boy, can I sip!"
[END]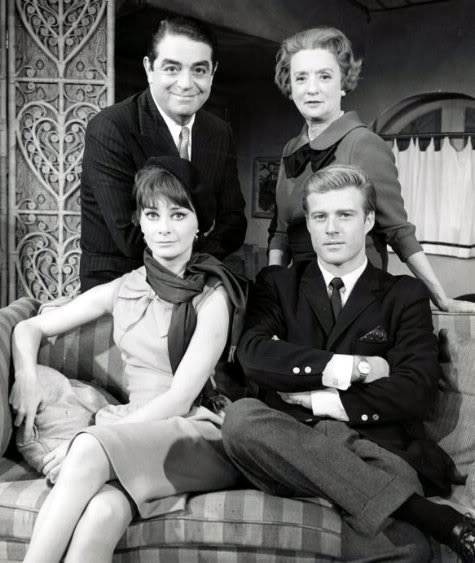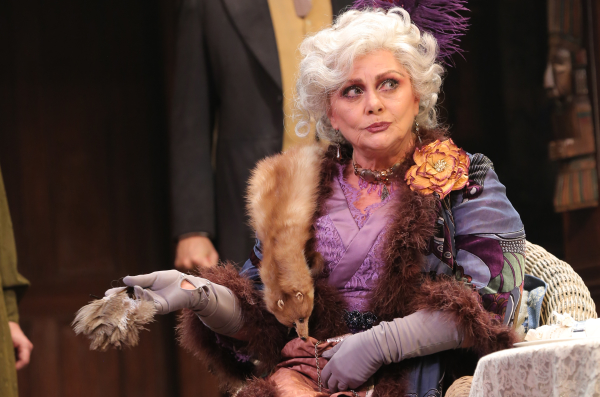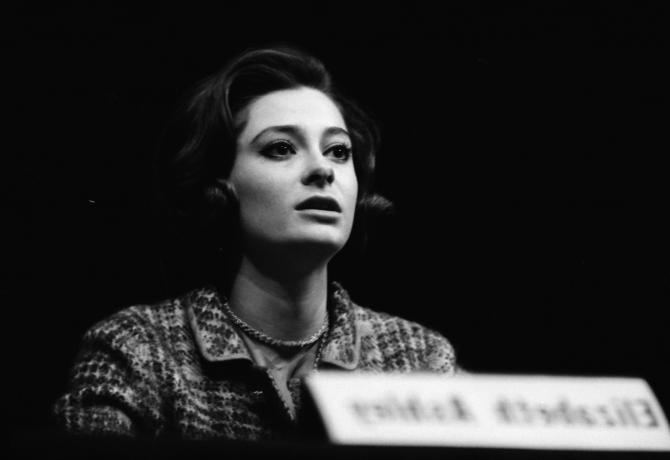 Key Subjects:
Elizabeth Ashley, You Can't Take it With You,
Miscellaneous:
This article first appeared in TheaterLife.com, 1/15