Company/Producers:
FabCo Productions & Write Act Repertory Theater
Website:
fabulousthemusicalcomedy.com
Review:
In this corny, campy comedy, loose with double-entendres, Laura Lee Handle and Jane Mann, two female impersonators in Paris, spot a diamond necklace heist. Out of work and almost pawning their glitter and boas, the pair receive a a telegram: the once-glamorous cruise ship, "The Queen Ethel May," needs two showgirls for its upcoming crossing to New York. What a break! One catch: the new showgirls have to convince everyone they are really girls.
Determined to pull it off, buxom blonde Laura Lee (played by Nick Morrett) and her sensible brunette gal-pal, Jane (Josh Kenney), pack their feathers and spangles, and it's "Bon Voyage." Now you add tap-dancing sailors, a couple of hoods, the FBI, a missing diamond necklace and a need for true love, and what do you have? A madcap mix of "Some Like it Hot," Gentlemen Prefer Blondes and Anything Goes. Madcap, yes, but witty? Not so much.
Fabulous! The Queen of New Musical Comedies, currently at the Times Square Arts Center, is aimed as a salute to the Golden Age of Broadway but feels more like slapdash, overworked silliness. Not a total shipwreck, thanks to some catchy, if derivative, tunes by Michael Rheault with Dan Derby's lyrics. (Derby also wrote the book.)
Director Rick Hamilton gets over-the-top performances from the large, enthusiastic and energetic cast. Morett's Laura Lee has a good-natured, Marilyn Monroe plus-sized giddiness, taking advantage of two big production numbers, "Doin' the Hump Daisy" and "Prince-less Princess."
Kenney does not portray a girly-girly Jane. In fact, she is dismayed to find herself falling in love with the dashing Hollywood actor-in-hiding, Rock Henderson (Adam Kemmerer), who thinks Jane is really a girl (even with the hint of a five-o'clock shadow).
One notable song, "I'm Fall for a Girl (in a closet"), is inspired when Rock and Jane get locked in -- you guessed it – a closet. Jane decides she wants to come out to Rock, but what to do when he thinks she is a girl? Kenney stands out in Jane's coming-out anthem, "Just Me."
Other characters include the Brooklyn brother-and-sister smugglers, Betty and Harry. Energetically played by Natalie DePuy and Bryan Seastrom, they are after the diamond necklace. (Remember? That's the one from the Paris heist.) DePuy goes overboard with the Brooklyn accent but sails with a girl-on-the-prowl tune, "I'm So Good But Oh So Bad," as she hunts down Sir Alfred (Cameron Lucas) who owns the ship.
Unfortunately mean-spirited is the characterization of the cruise coordinator, Sylvia (Jane Aquilina), who is the butt of too-numerous jokes about appearance and lesbianism. Okay, admittedly she's a brute of a woman but, really, the barbs are sophomoric. Her assistant is Stewey (Owen Wingo), a wannabe showbiz nebbish. The dancing sailors (DaWoyne Hill, AJ Hunsucker, PJ Palmer and Aaron VanderYacht) are jaunty tappers,and their harmonies are tight.
Act I seems interminable. Many dance numbers are too long and call for trimming. Mary Lauren's choreography is lively if unimaginative. At least the fun-loving cast makes Fabulous! The Queen of New Musical Comedies, not fabulous but, in its own way, fun.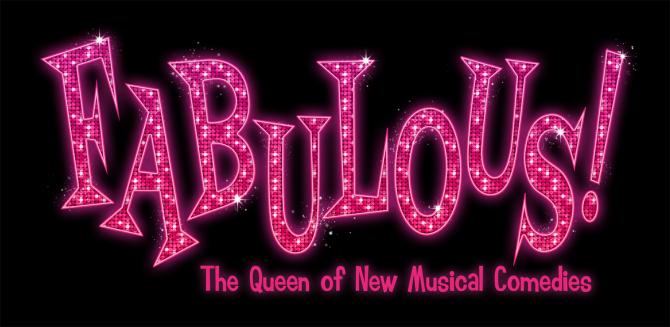 Cast:
Josh Kenney and Nick Morrett, Jane Aquilina, Natalie DePuy, DaWoyne A. Hill, AJ Hunsucker, Adam Kemmerer, Cameron Lucas, PJ Palmer, Bryan Seastrom, Aaron VanderYacht and Owen Wingo
Technical:
Set: Kathleen Moriarty; Costumes: Maya Graffagna; Lighting: David Goldstein