Since joining the America Theater Critics Association, we have attended conferences in Chicago, Indianapolis, Shepherdstown, West Virginia and, most recently, the 38th Humana Festival of New American Plays in Louisville, Kentucky. Through ATCA we are getting an overview of regional American theater. The well-organized conferences comprise intense experiences with meetings, panel discussions and major keynote speakers. (This time: Steinberg Award winning playwright Lauren Gunderson, who was also the keynote speaker for the conference. Also, longtime New York critic Ira J. Bilowit was honored for lifetime contributions to theater.)
There are typically five-to-seven plays. It's a lot of information to absorb, and hopefully the intensive professional dialogues and lively debates help to hone our craft. Since we are all from out of town and not going head to head with reviews, there is a lot more openness in discussing the plays. The range of diversity is often astonishing, although more often than not, a general consensus emerges on what does and does not work. The least important plays result in a kind of benign apathy.
Meeting in Louisville allowed for generous open bars and free-flowing Kentucky bourbon. That's dangerous prior to an evening of theatre. Late nights saw parties in the hotel bar, but mostly we crashed after long days. The final of three weekends at Humana is built around visiting professionals from critics to artistic directors, producers and agents.
Other than trailing along on a half-hour hike to an elegant old restaurant, we didn't get to see much of Louisville. The luxury Galt House where we stayed was literally across the street from the theater festival. That proved to be fortuitous during a week of rain and mostly chilly weather.
It was our first visit to the prestigious Humana Festival but for many of the critics in our group it's an annual event. Of the plays we saw, The Christians and Steel Hammer were the most provocative and memorable. They are likely to have further productions.
On Wednesday night, prior to the official festival, we saw a "local" production that is best forgotten. There was a performance of three Ten Minute plays: Winter Games, Some Prepared Remarks (A History in Speech) and Poor Shem. As always with ten-minute plays, they are short and sweet or endure as long as a root canal. There are also ambitious but sophomoric works featuring the energetic Acting Apprentice Company. For me, the nine segments dragged on without mercy, but for my companion, this was a fresh glimpse into the future with very young talent.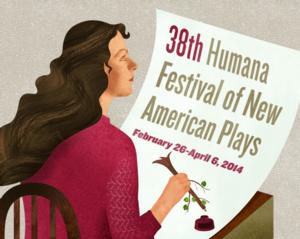 Key Subjects:
Actors Theater of Louisville Humana Festival
Miscellaneous:
In the Criticopia section, Charles Giuliano reviews three productions from this Humana Festival: Brownsville Song, Partners and The Grown Up.