Rosetta LeNoire, "Rosie" to everyone who loved her (and that list was a very, very long one), at 5' 2" was tiny in statue but was quite the dynamo. After years of acting in starring roles and seguing into major and memorable character portrayals, she had a dream to form a theater company that wasn't black or white but a company for everyone.
Ms. LeNoire's family emigrated from the Caribbean island of Dominica. She suffered from rickets and wore leg braces for 13 years.
Rosie's godfather was the legendary dancer, Bill "Bojangles" Robinson. "I began my career as a child performer, Rosetta Olive Burton," she once recalled. "It was an unusual debut. Bill would plant me in the audience and then pluck me out and bring me up onstage. Before you know it, we were singing and dancing!"
Her mother died of pneumonia at age 27 after giving birth to her brother in a Harlem hospital corridor because segregationist policies barred her from having a room.
Acting in Robert Earl Jones' troupe, Rosie had the distinction of baby-sitting James Earl Jones, who became a life-long friend and supporter.
In 1936, Miss LeNoire made her Broadway debut in the limited run of Orson Welles' landmark, all-black "voodoo" adaptation of Macbeth, produced by the Negro Theater Unit of the WPA's Federal Theater Project and John Houseman. She was back on Broadway in 1939 as Peep-Bo in Mike Todd's all-black Hot Mikado (which starred Robinson as the Mikado).
She made her TV debut in the early 50s on a soap and went on to play countless roles in live TV dramas and specials. She was featured in Philip Yordan's controversial 1959 film, "Anna Lucasta," and in 1966, she played Queenie in Lincoln Center's production of Show Boat.
Growing up in New York, Ms. LeNoire, who died in 2002 at age 91, struggled against racism during her touring years and knew the drill about African-American actors having to stay in their own hotels or rooming houses. She often spoke of those early years when she was perpetually typecast in the role of the maid. "There were so many of them," she once joked, "I lost count."
During the enactment of civil rights legislation in the 60s, she had what she called "an epiphany" to change how theater is perceived. In 1968, she founded of Amas [Latin for "you love"] and segued from actress to a pioneering figure in American theater.
Playing a nurse, she joined the cast of Neil Simon's The Sunshine Boys and appeared in the 1975 film adaptation. That year, she was seen in Stanley Kramer's ABC-TV adaptation of "Guess Who's Coming to Dinner" and on Broadway opposite George Grizzard, Rosemary Harris, Eva Le Gallienne, Sam Levene and Mary Louise Wilson in Ellis Rabb's hit revival of The Royal Family, which was filmed for TV.
Years later, it was on TV that Rosetta LeNoire became a household name playing world-weary but all-wise "Mother" Winslow, the grandmother, on ABC's hit sitcom Family Matters. The money she made helped finance her dream.
She related that at a job interview in Harlem, she overheard a teacher ask children, "Who do we love?" "Their answer was, 'We love black!' And the teacher asked, 'Who do we hate?' And they replied, 'We hate whitey!' I thought, my God, we worry about our kids getting into alcohol and drugs, but this is worse. I felt it was poisoning their minds, and at a time when they couldn't make decisions for themselves."
When she related the incident to her husband, he encouraged her "to do something about it." That night, "on broken-down typewriter, I started writing letters."
Among the letters was one to the New York State Council on the Arts. "I didn't know anyone there, so I wrote to several; and all answered! When I went for the interview, I had my male business manager and two young women, one Jewish and the other, Korean. When I explained what I wanted, I was asked, 'Why don't you want an all-black theater?' I answered, 'My world is not all black. My world is as God created it, all colors, a glorious bouquet.'"
Rose was informed she'd have a difficult time because so much funding was going to black cultural groups, but decided to take her chances. "I prayed and made Novenas and asked others to pray. A month later, a miracle happened. I received a check for $25,000. And that was how Amas started!"
One of her first big projects was the musical revue Bubbling Brown Sugar in 1973, which later moved to Broadway where it became a huge hit. As things at Amas developed, Rosie was an exponent of diversity through non-traditional casting.
In a production of The Bingo Long All-Stars, about the Negro baseball leagues (which later was the basis for a film co-starring James Earl Jones, Billy Dee Williams and Richard Pryor), Rosie was criticized for casting a young, red-headed white male as one of the Negro players. She was quick to respond, "I was denied roles because of my color. I'll be damned if that will ever happen in my theater! AMAS is not a black theater." She did make a small compromise by asking the actor to wear dark make-up.
In 1989, Rosie was honored by Actor's Equity with the establishment of the Rosetta LeNoire Award, given annually to producers and theater companies who exemplify her commitment to multicultural production and casting in the theater. Rosie was the first recipient. Then AE prez Colleen Dewhurst, with whom Rosie worked in YCTIWY, presented and stated, "This is given in recognition of your outstanding artistic contributions to the universality of the human experience in the American Theater."
In 1999, President Clinton awarded Miss LeNoire the National Medal of Arts to Rosie along with Aretha Franklin, Steven Spielberg, Garrison Keillor, dancer Maria Tallchief, BAM's Harvey Lichtenstein and George Segal.
With Miss LeNoire co-starring in a hit TV series, Amas needed a full-time Artistic Director. Donna Trinkoff came aboard and, as Rosie entered a long period of illness and on her death, continued the mission and the tradition of multi-cultural casting begun by Rosie.
Under Trinkoff, the company has become a leading not-for-profit lab for new musicals, including the very recent Wanda's World, Shout!:The Mod Musical, Lone Star Love and Zanna, Don't.
South Carolina-born Virginia Capers studied voice at Julliard but, according to her son Glenn, a photographer, she was expelled when she became pregnant. She ended up as vocalist in a band heard on radio and which toured. She found roles on Broadway in musicals, 1957's Jamaica, which starred Lena Horne, and 1959's Saratoga, set in 1880s New Orleans and New York. From the early 60s on, she was cast in ever larger roles in TV dramas.
Glenn Capers said, because she was black, his mother spent a lot of her life being told she should sing the blues. That wasn't her plan. In fact, she diligently fought black stereotypes. "Though Mother often found herself in those roles out of necessity," he said, "she was eventually allowed to become more 'professional,' playing nurses and judges - any role other than the poor, single Mom struggling to make it."
Her first starring role on Broadway came in 1973 when she won the coveted role of Lena Younger in a musical adaptation of A Raisin in the Sun, called Raisin. She opened to great acclaim and was nominated for and won the Tony, the first black woman to win solo.
The landmark for blacks on Broadway was 1950 when Juanita Hall became the first African-American to win a Tony, for her acclaimed featured role as Bloody Mary in R&H's original, Tony-winning South Pacific.
Fifteen years later, Leslie Uggams won in the Actress, Musical, category for her performance in the Tony-winning Best Musical, Hallelujah, Baby!. But it was a tie, with Patricia Routledge - yes, later to become TV's Hyacinth Bucket and Hetty Wainthropp - in the short-lived Darling of the Day.
"Raisin was her true love," recalls Glenn. "No one expected her not to win the Tony [that year's Tony category had Miss Capers up against only Carol Channing in Lorelei and Michele Lee in Seesaw]. That night, I watched in silence as she got ready. On the way to the theater, I slipped her a note saying this was going to be her night, as other blacks had had theirs for the trails they blazed. I felt their spirits were guiding her.
"When the envelope was opened," he continues, "and from the silence her name sprang out, Mom lifted out of her seat as if on wings. She started toward the stage, turned back and hugged me. 'It's mine!' she whispered.
Afterward, everyone gathered around wanting to touch her and share her moment of joy. It was like a revival meeting! Her winning was Mom saying to all those with dreams and aspirations, 'Yes, you can do it!'"
In the press room, according to Glenn, the reporter from The New York Times rushed passed her to interview Channing and Lee. "He didn't seem to care that history was made that night. But Mom stomped her foot down and said, 'Excuse me! I am the Tony Award winner. You interview me!' He did, and it appeared the next day."
Miss Capers went on to play Lena Younger in Hansberry's play but didn't appear on Broadway again. For her role in an episode of TV's "Mannix," she earned her a 1973 Emmy nomination. In the 70s into the late 89s, she was featured in such major films as "The Great White Hope," "Lady Sings the Blues" and "Ferris Bueller's Day Off."
She founded and acted with the Lafayette Players, a Los Angeles repertory group composed mostly of black actors.
Virginia Capers died after a long illness and many complications following heart problems, cancer and hip replacements, in L.A. in 2004. She was 78.
"Mom's last wish," says Glenn, "was to make sure all races and nationalities could be identified for their accomplishment in theater."
He explains there's no record of her attending Julliard, where she became close friends with Mississippi-born Leontyne Price, who went on to international fame in opera.
[END]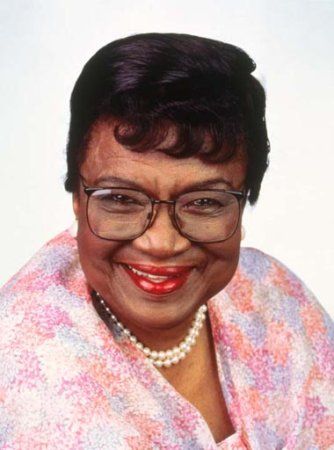 Key Subjects:
Rosetta LeNoire, Amas, Tony Award, Macbeth, Raisin
Subtitle:
The Struggles and Triumphs of Rosetta LeNoire