The music of Sigmund Romberg has faded into disfavor. His once-popular shows, The Student Prince, The Desert Song and The New Moon are rarely performed anymore, although Manhattan's Encores! series will revive The New Moon next season. When Romberg's works are reissued on disc, intelligent critics such as Steven Suskin are dismissive, saying "It was all the rage in 1924, but I think that even then I would have found it outdated...stodgy...old-fashioned."
Meanwhile, internet searches for information on Romberg bring up an environmentalist, a disease, an Argentine artist, an attorney and an auto insurance company but no facts about the composer. This is a man who once was the king of Broadway and, long after that, remained ubiquitous in touring productions. Sheldon Harnick even took note of Romberg's popularity and wrote a lyric : "Summer is Sigmund Romberg / In a music tent." (It was cut from the 1958 Bock & Harnick show, The Body Beautiful.)
His music may return to favor some day. We have, however, almost missed a chance to discover what the man was like. Almost, but not quite. A biography is out-of-print. A movie bio, "Deep in My Heart, Dear," was made in 1952 with Jose Ferrer playing the composer, but you can't trust movie musicals for facts. Beyond that, we have only fleeting recollections of Romberg by people who knew him, and few of them are left.
DRG just released CD versions of two Romberg shows and Decca released three more, with Kitty Carlisle. So I asked her what memories she had of the composer. She was a teenager when The Student Prince premiered, and she sang a lot of his music. "I love Romberg's songs," she tells me. "He was so singable. He wrote endearing melodies. The only fault he had was that his songs maybe were too comfortable. A friend of mine once told me that when you went to the premiere of a Romberg show you could whistle the tunes on your way into the theater."
Reminiscences of Romberg come from Bob Wright and Chet Forrest, the composers of The Song of Norway, Kismet and Grand Hotel. I had the chance to talk with them about this just before Forrest's death. The Boys, as Romberg called them, were in their early 20s while Romberg was in his late 40s, and they all were Hollywood songwriters in the 1930s. The older man served tea and pastries in his cottage. "Rommy was like an uncle to us, a sweet man. Very practical. No ego. MGM asked us to re-write his Broadway hit, Maytime, and he told us to go ahead and use whatever we wanted of his, and to throw out whatever we wanted. He was avuncular, gracious, Viennese." He told the Boys he was aware that some people thought his songs sounded familiar, but "I've written close to 60 shows, and I've never been sued for plagiarism." He also explained that he deliberately aimed to make his songs sound familiar, because "people need to feel familiarity in order to feel romance."
Romberg must have been a practical, accommodating man, for he worked smoothly with many different collaborators, including the lyricists P. G. Wodehouse, Oscar Hammerstein II, Dorothy Donnelly, Otto Harbach, Irving Caesar, Rida Johnson Young, Sam Coslow, Leo Robin and Dorothy Fields. Speak of accommodating: He shared writing the score to Poor Little Ritz Girl with Rodgers & Hart.
His practicality can be seen in something he wrote to Hammerstein in 1939: "Never expect life to be the way you want it, but come to the realization that in this rotten world, filled with lousy, stinking people, you have to take the other man as he is -- and not the way you want him to be." Notice that he wrote in a plain American style, not with a foreign accent, as it were. Not with the elocution of the characters in his operettas.
Jerome Chodorov, age 92, is the author of My Sister Eileen and Wonderful Town. He also wrote the book for the last Romberg musical, The Girl in Pink Tights, which opened in 1954. A major problem in staging this show was the fact that Romberg had died three years earlier, on November 10, 1951, at the age of 64 from a cerebral hemorrhage. Chodorov explains that Rommy left a few songs, but orchestrator Don Walker had to develop the score. A new Romberg ballad, "Lost in Loveliness," has a long, expansive form something like Jerome Kern. The tune, however, keeps within a simple, four-note range (unlike Kern.) This simplicity in melody is one of Romberg's trademarks, as we will see.
Two other songs he wrote for that show are interesting: "My Heart Won't Say Goodbye," with rising scales and diminished top notes, and a minor-key rhumba called "In Paris and In Love." This one blends several genres. There's chromatic exoticism reminiscent of The Desert Song plus a touch of Cole Porter's Beguine style, plus a hint of the 1944 pop song, "Amor." The score also includes a rollicking tune about riding in New York's first elevated railroad. So even in his last work, he was still writing interesting stuff. Chodorov says that his book wasn't good, and the show closed after 115 performances. He blames himself, not Romberg.
Romberg was short and pudgy-looking. He may have had small and fat hands. At any rate, it sounds as if his tunes were written for small hands. You could be arthritic and still be able to play Romberg. He kept his tunes usually within one octave, and the progressions were in very small steps. A good example is the middle section of "Lover, Come Back to Me," "I remember every little thing we used to do," which sounds daunting when you hear it screamed by opera singers at the top of their voices. But listen again. It's really nothing but repetitions of a simple couplet of adjoining notes.
And listen to the simplicity of the notes on the words "this aching heart of mine is singing, lover, come back to me" or "deep in my heart, dear, I have a dream of you" or "overhead the moon is beaming, white as blossoms on the bough." The three-tone ascent from E to A on "beaming" sticks out as one of Romberg's biggest leaps, and it is nothing compared to what Romberg's contemporaries were writing. In the 1920s, Gershwin was dazzling with tricky rhythms, and Richard Rodgers was interrupting his simple, innocent phrases with unexpected jumps and unprepared dissonances. But Romberg's writing was plainer.
Romberg's biggest deficiency was an inability to swing or to sound jazzy. Ella Fitzgerald never considered recording the Sigmund Romberg Songbook, and you're not likely to find a John Pizzarelli interpretation.
A composer whom Romberg resembles is, of all people, Noel Coward. "Deep in My Heart, Dear" has the same structure, and some of the same cadences as "I'll See You Again" and the two songs also share a similar sentiment. Romberg's song says:
"Our paths may sever / But I'll remember forever"
while Coward wrote:
"I'll see you again / Whenever Spring breaks through again."
This resemblance is odd when you consider the huge difference between the backgrounds of Coward and Romberg.
Zsigmond Romberg was born July 29, 1887, in Hungary. His father, Adam Romberg, was commercial director of a sawmill, and his mother, Clara Berg, wrote poems and short stories. Sigmund studied piano and violin, but his parents insisted he get a degree in engineering, which he did. Emigrating to the United States in 1909, when he was 22, Romberg became a pianist at musical cafes and then orchestra leader at the Bustanovy Restaurant at 39th Street and Sixth Avenue.
He wrote Whirl of the World in 1914 which the Shubert Brothers produced at the Winter Garden Theater. Romberg followed with a series of revue-extravaganzas for the Shuberts, where he churned out melodies to accompany their parades of showgirls. He composed for some of the top personalities of the day, including Al Jolson, Peggy Wood, Fred & Adele Astaire and former heavyweight champ James J. Corbett. He also gave Vivienne Segal, just out of music school in Philadelphia, her first Broadway role. Romberg's songs were an expendable commodity in the Shubert shows. Jolson would interpolate songs by outside writers, and, in 1920, Romberg wrote half the score to Poor Little Ritz Girl, while the new team of Rodgers & Hart wrote the other half.
But not everything he did for the Shuberts was hack work. His 1917 Maytime contained the lovely ballad "Will You Remember?" Audience response was so enthusiastic that a second company of the show opened right across the street and ran simultaneously with the first.
Now an American citizen, Romberg served in the army in World War I. When his commanders learned that he spoke Hungarian, German and Serbian, they assigned him to Military Intelligence to counteract possible enemy sabotage on the East Coast.
Back in New York after the war, Romberg used his classical training to achieve something more distinctive than the Shubert revues: a pseudo-biography of composer Franz Schubert which he called Blossom Time. Even the usually dour and acerbic George S. Kaufman wrote that "songs of passionate longing illuminate Blossom Time."
In 1924 Romberg composed The Student Prince in Heidelberg, and it became the biggest hit of his career. You realize how conditions have changed when you see that The Student Prince's original production had 40 men in the chorus.
Romberg followed with The Desert Song and The New Moon. His music came to be played virtually everywhere -- in cafes, on radio and on peoples' living rooms pianos and Victrolas. Like Andrew Lloyd Webber 60 years later, Romberg produced touring concerts of his music with symphony orchestras and soloists. For many years Romberg himself conducted those concerts.
Romberg's career spanned a change of generations. When "Your Hit Parade" went on radio in 1935, the number one song on its first broadcast was a new Sigmund Romberg-Oscar Hammerstein II film song, "When I Grow Too Old to Dream (I'll have you to remember.)" His show May Wine, written in 1935 with Hammerstein and Frank Mandel, dealt with psychoanalysis, way before the Moss Hart-Kurt Weill-Ira Gershwin show on that topic, Lady in the Dark. Romberg again had a Broadway hit in 1945 with Up in Central Park, which featured the popular song "(We'll Be) Close as Pages in a Book." It has an inventive melody that sounds neither Viennese nor Hungarian. In other words, it was not a remake of his early work.
Romberg once said: "A melody is still a melody. Nothing succeeds like a popular tune, a romantic tune. Romantic music will never die because deep at the roots of all people is the theme of love."
Romberg wrote in a familiar idiom, from the same roots as the Viennese composers Johann Strauss and Franz Lehar. Like them, he blended Austrian, Hungarian, gypsy and Jewish influences, but he wrote with more intimacy and accessibility. You need a trained voice to sing Lehar's hits, like "Vilia," or Strauss', like "Look Me Over Once." Romberg's songs, on the other hand, can be sung by amateurs.
A good trick by Romberg was his ability to write tunes that sound brilliant when sung on stage in a high key with loud endings, and that sound mellow -- and just as good -- when sung softly, an octave lower, by ordinary voices. As arranged for the stage, Romberg's songs have a wide range, but if you strip away the coloratura obbligatos and the theatrical high transpositions, you'll see that the heart of his melodies are simple and reachable.
Romberg was more inventive than he appears at first glance. The Student Prince has ten waltzes -- including the Drinking Song, "Golden Days" and "Deep in My Heart, Dear" -- and none of them sound alike. Listen to the plaintive, almost-Yiddish-sounding "Nevermore Will Come Again Our Youth" which is followed by a reprise of the sunny "Golden Days." They're both in three-quarter time, but there's a big contrast between them.
Two years later, Romberg wrote a score for The Desert Song which includes "One Alone," "The Riff Song" and the title song ("Blue heaven and you and I."). This score has its own sound, an exoticism that conjures images of the shifting sands in French North Africa in contrast to The Student Prince's German gemutlich sound.
Then, another two years later in The New Moon, he expanded his range by using a tango rhythm and minor key in "Softly, As in a Morning Sunrise." His other accomplishment in that song was to make the last note of each phrase one step lower than the end of the phrase before it, thus creating a mood of dejection. That show's "Lover, Come Back to Me" also is about loss. Romberg's phrases here ascend and then drop down, and the last notes of alternate phrases go lower than the phrase before, giving a plaintive effect. The score also includes three other hits: "One Kiss," "Wanting You" and the march "Stouthearted Men."
Nostalgia for the traditions of Europe is what Romberg and his lyricist, Dorothy Donnelly, were selling in The Student Prince, but Romberg didn't write only about that topic. The Desert Song and New Moon are swashbuckling adventures, one in the Sahara, the other about Caribbean pirates. East Wind was set in Saigon, Nina Rosa in Peru and Cherry Blossoms in Japan. Romberg's melodies and the passions he wrote about are now accused of being overblown, but are they any more so than those in Les Miz?
It's true that, interspersed with his hits, he turned out mediocre films and shows where he re-visited the Archdukes and the princesses of pre-World War I Europe. His output of music is enormous, and there's some duplication. (I'm not saying he deserves a lot of credit just because he wrote 55(!) Broadway shows. I am saying he earned distinction with the quality of the top handful, and with his creation of at least 15 enduring songs.)
In 1951, the year of Romberg's death, Blossom Time had a successful tour in major cities. Through the 1950s and 60s there were productions of Student Prince that criss-crossed America and played in the summer tent theaters. That show, and Desert Song, were presented successfully by Lehman Engel at Philadelphia's Academy of Music in 1973. After that, Romberg's popularity declined precipitously.
His fame eclipsed so quickly that Donal Henahan wrote in The New York Times in 1980 that Romberg "has slipped into the shadows" along with the entire genre of operetta. Henahan advanced a theory that the music was doomed because Romberg set out to make it accessible: "Music quickly grasped seems to want to become anonymous." That's an interesting thought, but it doesn't explain why his music was so popular for 40 years. Henahan also pointed out that "now" -- in 1980 -- words have become more important than melodies on Broadway. This echoes what Abe Laufe wrote in his 1969 "Broadway's Greatest Musicals," that directors nowadays cast for actors more than for singers, and most actors can't do justice to Romberg's melodies.
But Sheldon Harnick, one of the newer generation of writers, felt that Romberg was a cultural icon and wrote that lyric paying tribute to him. The simple, romantic plots and passionate tunes still appeal to many people.
[END]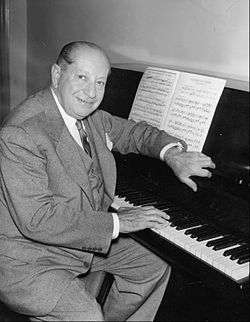 Key Subjects:
Sigmund Romberg, Desert Song, The New Moon, The Student Prince, Sheldon Harnick, Kitty Carlisle, Poor Little Ritz Girl, Richard Rodgers, Jerome Chodorov, Maytime
Writer Bio:
Steve Cohen has written numerous pieces for This Month ON STAGE magazine and Totaltheater.com.
Miscellaneous:
ROMBERG ON RECORD The Student Prince: (DRG) This CD issue of a Columbia LP was produced in the early 1950s by Goddard Lieberson. Dorothy Kirsten and Robert Rounseville are convincing lovers, giving more attention to characterization and the words than their competitors. Both had good operatic voices, but they knew how to scale them down for intimacy. The ensemble sounds like a real stage cast and Lehman Engel conducts convincingly. (Decca) It's easy to laugh at the idea of Lauritz Melchior in a romantic role. He was a large man with white hair and had a heavy Danish accent. His gleaming high notes are impressive, though. This shares a CD with another show, so buy the DRG instead. (RCA Victor) The ardent Jan Peerce sounds ideal as the prince. Like Melchior, he was middle-aged and not very handsome, but Peerce's immersion in the schmaltzy style make you believe in him. Roberta Peters is perfect as the lovely young object of the prince's desires, and Giorgio Tozzi is the kindly and sonorous teacher and adviser. Not available on CD. (RCA Victor) A recording made for the 1954 film that was to star Mario Lanza. He was fired because he was grossly overweight and replaced by Edmund Purdom but Lanza's passionate voice remains on the soundtrack. The New Moon and The Desert Song (Decca) Kitty Carlisle, Wilbur Evans. 8 songs from New Moon and 10 from Desert Song, aren't nearly enough, but they are logically paired on one CD in idiomatic interpretations. Carlisle has all the notes, and in addition, she adds personality and warmth. The Girl in Pink Tights (DRG) A new CD of the original cast Columbia recording from 1954. This has a more contemporary Broadway sound, even though the plot is set in the 1800s. There are four very interesting numbers in this score, as discussed above, and Rommy might have done more for the show if he had lived.
Subtitle:
The Life of Sigmund Romberg