David Raksin returned to his roots, or very close to them, when he appeared April 19, 2001, as singer and pianist of his own compositions in Joe's Pub at the Public Theater in Manhattan. At age 88 he performed the romantic song "Laura" and excerpts from the scores he composed for films such as "Laura, The Bad and the Beautiful" and "Forever Amber."
Before his Hollywood days, Raksin was a Broadway orchestrator who scored a group of early-1930s musicals. He remembers most warmly Thumbs Up, a 1934 vehicle for the musical comedy team of Clark and McCullough, Paul Draper, Hal LeRoy and Eddie Dowling, staged by Robert Alton; and Parade, a 1935 review with a score by Jerome Moross, starring Jimmy Savo and also staged by Robert Alton.
Hans Spialek and Robert Russell Bennett were two of Raksin's friends and colleagues in the profession. Asked how his work differed from theirs, Raksin responds, "I was more of a jazz man. I was a jazz saxophonist myself, and I had a more youthful approach." Two of the songs that were in Thumbs Up were "Zing Went the Strings of My Heart" and "Autumn in New York."
"The pit bands in those days were 30 pieces or more," remembered Raksin in our conversation the day of the Joe's Pub appearance, "not tiny like today. Orchestrators were not highly honored; we didn't get credit in the programs and we weren't paid much."
Raksin was in his early 20's, a recent graduate of the University of Pennsylvania's school of music. He grew up in the Jewish pushcart neighborhood of Marshall Street in Philadelphia. His father was a clarinetist with silent movie orchestras and a substitute player with the Philadelphia Orchestra. Young David studied piano and clarinet, then formed a dance band during his high school years, playing sax and clarinet and singing vocals on hits of the day such as Johnny Green's "Body and Soul," Gershwin's "Embraceable You" and Rodgers and Hart's "Isn't It Romantic." While at Penn, Raksin played sax and piano for the Ipana Troubadors, a well-known radio band led by Sam Lanin, uncle of the later-to-be society bandleader, Lester Lanin.
Film buffs are in awe of Raksin, who is the last surviving member of Hollywood's famed golden age composers. In their zeal, these admirers overlook Raksin's Broadway work. The composer told me that no one asks him about that phase of his career.
"Trying to find work in New York, I was starving," says Raksin. "Then Al Goodman, one of the best conductors of Broadway pit bands, played my arrangement of "I Got Rhythm" and his pianist, Oscar Levant, recommended me to George Gershwin, and that led to me being hired to be an orchestrator and composer in Hollywood." Raksin was pleasantly suprised, over the next few years, to meet many of the writers whose songs he had sung with his band.
"I think our country's greatest cultural contribution isn't so much jazz or blues; it's the great American songs written by Jerry Kern and Harold Arlen and people like that," says Raksin.
His Broadway benefactor, Al Goodman, later conducted a popular radio series of his own, was band leader on the Fred Allen show and conducted studio-cast show albums for RCA Victor. Moving to Hollywood at age 23, Raksin joined other emigres from Broadway such as the Gershwins, Rodgers, Hart, Kern and Arlen. He got a job as Chaplin's assistant for what many consider to be his masterpiece, "Modern Times," in 1936.
"Charlie was a marvelous talent," says Raksin, "He was an amateur composer but he didn't know how to write the music down or how to elaborate hisáideas. That's why he hired me. He had a tape recorder so he could record the melodic ideas that came to him. It must have been one of the first tape recorders in this country -- they made them in Germany before anyone made them here -- because Mike Feinstein, you know, the singer and pianist Michael Feinstein, tells me that only wire recorders were available in 1935 and `36, but I know it was a tape recorder.
"Anyway, one day I was alone in Charlie's studio on LaBrea Avenue, and I recorded myself playing part of Prokofiev's Third Piano Concerto -- the very tricky, difficult first movement. Later, Charlie was showing some guests around his place, and he explained that this was the machine he used to capture his inspirations. Charlie said: `Here's what I thought of yesterday' -- and he turned the `play' switch on the machine and out came Prokofiev. He was so angry he fired me. Al Goodman talked Charlie into re-hiring me.
"I'm really the co-author of the score of "Modern Times.' My function was to take Charlie's little tunes and identify them, then make something out of them. Charlie had his own ideas about the development and what he wanted and didn't want. The two of us used to sit there and argue about what went this way and what went that way. We'd argue about what instruments should play a certain piece of thematic material. And Charlie would say yes or no."
After "Modern Times" Raksin was offered work in England, where he met his first wife, the late actress Pamela Randell. They had one son. "Then I went back to California to work as a composer at Universal Studios."
Raksin's biggest pop hit came about when Otto Preminger was directing the romantic mystery film, "Laura," in 1945. "Al (Alfred) Newman turned down the job of composer because Preminger was a headache to work for, and Benny (Bernard) Hermann turned it down because he didn't like the story. I took the assignment. But Preminger wanted the score to be based on "Sophisticated Lady" by Duke Ellington. I told him it was wrong for the character and, in any case, that song had 15 years of baggage. He asked what I'd propose in its place. On a Sunday evening I sat at my piano and came up with the melody for the principal theme.
"After the film was released, the studio got over a thousand letters asking about the melody. I said: `Look, we've got a tune here that we can do something with.' I gave it to Johnny Mercer and he wrote the lyrics."
According to ASCAP, "Laura" ranks just below "Stardust" on the list of most-performed American popular songs.
When asked why he didn't write other pop hits, Raksin says: "A guy like me, I write complicated melodies. They don't easily adapt into songs. My melody for "Fallen Angel," though, was recorded as a ballad called "Slowly" by Dick Haymes."
Raksin composed the musicals If the Shoe Fits and The Wind in the Willows and incidental music for stage productions of Volpone, Mother Courage and Noah. If the Shoe Fits , with lyrics by June Carroll Sillman, opened on Broadway in December 1946 and had a five-week run. Leonard Bernstein told Raksin that he enjoyed the songs in it. Raksin also scored more than 300 television shows. Elected to the ASCAP Board in 1995, Raksin was appointed by the Librarian of Congress to the National Film Preservation Board. He also served for eight terms as President of the Composers and Lyricists Guild. He has taught Composition for Films since 1956 at USC. He remarried and divorced, and his son Alexander is a writer for the Los Angeles Times. In recent years he has traveled the world conducting concerts of music written by himself and other film composers.
Concerned about who is watching out for his health, I asked Raksin if he lives alone. "Not really alone," he answered. "As a marauding man, I'm rarely alone."
"Do you mean to tell me you have a sex life at 88?" I asked, and he replied in the affirmative.
"Kinehora," I said, with the Yiddish word that means "good for you," and "keep up the good luck."
Raksin responded with a fervent: "You said it." 
[END]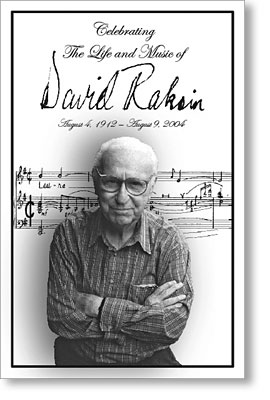 Key Subjects:
David Raksin, Orchestrations; Laura; Charles Chaplin; Modern Times.
Writer Bio:
Steve Cohen has written numerous pieces for This Month ON STAGE magazine and Totaltheater.com.
Subtitle:
A Chat With Composer & Orchestrator David Raksin