Unless you've been living life on Mars (and, these days, you might be), you are familiar with Mayhem, the character pitching on TV commercials for Allstate Insurance, played by Dean Winters ("30 Rock" and so memorable on HBO's "Oz" and who, in real life, has had more than his share of mayhem moments).
That comparison brings us to two-time Tony-winner Norbert Leo Butz, who's famous for creating his own brand of mayhem in his acclaimed staged performances. He wisely chose to call his 54 Below concert "Memory & Mayhem" (Broadway Records; SRP, $13.28), recorded in August 2012 with Kenny Howard and Van Dean producing the CD.
His fans will eat this show up, but it's different from you might expect. On the very positive side, these aren't songs you'll be hearing every day on every CD. Butz, on guitar, is in a rock/blues mode, and selected songs that reflect his life – what he remembers and how great moments in his life are pitched with humor, horror and joy.
There're 16 tunes on 15 tracks; others have Butz, backed by a five-piece ensemble and vocalists, interacting with the audience. Highlights are Van Morrison's "The Way Lovers Do," "Killing the Blues" by Rowland Salley, Jimmy Webb's "If These Walls Could Speak," in a Ray Charles mood with "Georgia on My Mind" co-written by Hoagy Carmichael, a banjo- and keyboard-infused "Sixteen Tons" by Merle Travis, and Tom Waits' poignant "Broken Bicycles."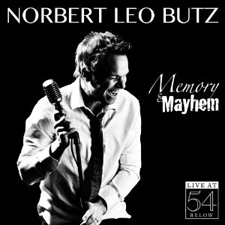 Key Subjects:
Norbert Leo Butz, 54 Below
Miscellaneous:
The CD comes with an illustrated booklet with notes.