After a three-year absence, one of New York's best-loved and longest-running Off -roadway shows, Gerard Alessandrini's classic series, Forbidden Broadway,has returned with a new edition, "Alive and Kicking," at the 47th Street Theater. This marks the internationally acclaimed show's 30th anniversary, as well as its 21st edition.
The subtitle says it all, as witty, clever satirist Alessandrini enters the ring poking some of the main stem's biggest shows and stars with parody. It's probably the sharpest of all editions, and the long absence has only made audiences long for the laughs – about 10 per second – even more. A couple of instances are mean-spirited, but mean-spirited with a huge Cheshire cat grin and gleaming gold teeth.
"During our hiatus," says Alessandrini, "I sat through show after show, with no outlet to vent with comic-fanged tongue in cheek. I was bursting, until finally, I couldn't take it anymore. The much-ballyhooed new shows and much-ballyhooed stars caused pent-up parodies to dance in my mind as my imagination wrecked havoc. I have been blessed with several seasons that could have practically written several editions of Forbidden Broadway!
"Luckily," he continues, "we were able to get our favorite theater again. When you birth a new edition, you know that the tried-and-true fans will return. I've been blessed forever with incredibly loyal followings. Of course, you worry the laughs will drop where they're supposed to. There's no malice. It's all in good fun."
Alessandrini needn't have worried; the fans have been returning in droves. Forbidden Broadway: Alive and Kicking is one of the big hits of the season.
It's one thing to be clever with parody lyrics to scores avid theatergoers can sing in their sleep, but it takes an outstanding cast of gifted mimics to carry it off. Through the years, this has been one of Forbidden Broadway's greatest assets, and this cast is no exception. Natalie Charlé Ellis, Scott Richard Foster, Jenny Lee Stern, and Marcus Stevens superbly hit their targets abetted quite ably by longtime Forbidden Broadway musical director David Caldwell, an amazing one-man orchestra.
Recent shows and revivals lampooned with a soft touch and sometimes a wallop are Anything Goes, The Book of Mormon, Death of a Salesman, End of the Rainbow, Evita, Follies, Ghost, Into the Woods, Newsies, Nice Work If You Can Get It, Once, Porgy and Bess, Rock of Ages, and Spider-Man: Turn Off the Dark.
The revival of Annie, even before it returns, also gets teased – and, not to mention, Catherine Zeta-Jones in now-gone A Little Night Music and Patti LuPone and Mandy Patinkin in concert. Alessandrini and director Philip George have also trotted out chestnuts, including Jersey Boys, The Lion King, Mary Poppins and Wicked. Best of all, you don't have to have seen these shows to enjoy the ribbing they get.
Forbidden Broadway is a show-business institution. It's won numerous awards, including a special Tony Award, as well as Drama Desk, Obie, and Drama Critics' Circle Awards. Editions have been performed in over 200 U.S. cities as well as in London, Tokyo, Singapore and Sydney.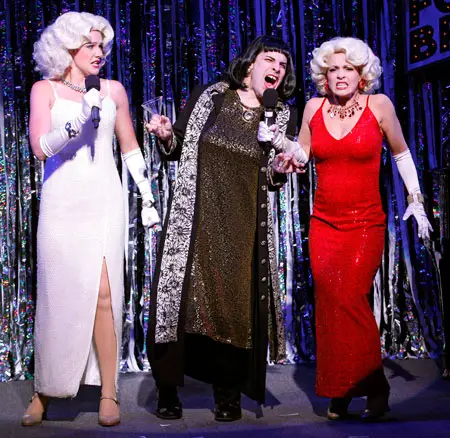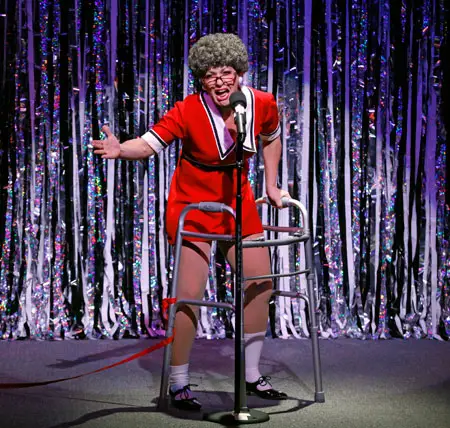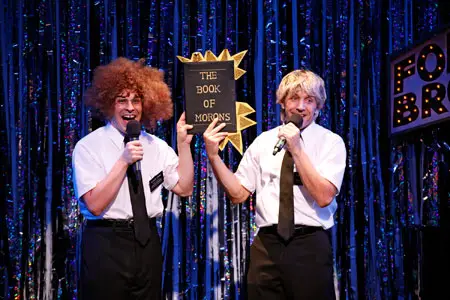 Key Subjects:
Forbidden Broadway: Alive and Kicking, Gerard Alessandrini, Patti LuPone, Mandy Patinkin, Porgy and Bess, Evita, Annie, Book of Mormon.