Joel Grey is back. Wilkommen! He's starring in Kander and Ebb's Chicago, one of Broadway's biggest hits in decades and one of its most acclaimed revivals, and "Mr. Cellophane" is his song. But Grey's presence -- in the role of Amos, Roxie Hart's wronged husband -- isn't meant to be a dominant force. He's supposed to be there without being there, do this showy number, and not be there again. Amos is at the other end of the spectrum from Grey's most famous role, the amoral emcee in Cabaret, for which he won a Tony Award, plus an Oscar for the movie adaptation. "That was a role I couldn't understand director Hal Prince selecting me for," laughs Grey. "He saw something in me that I didn't know was there. That was the first part I didn't have to audition for. Talk about a shot out of a cannon!" It was also not the musical's biggest part, but Grey's vivid style translated into raves and huge audience response. In Chicago, he shines brilliantly in a part that's little more than a cameo. Yet, "without clucking like a hen," amidst all the razzle dazzle and given his diminutive statue, it's hard not to feel Grey's star quality. Born into an Ohio vaudevillian and musical family, he's been at it since age nine. "I love theater," says Grey. "I get this incredible rush of excitement every time the lights go down." It shows in his work. It becomes quickly evident that the stage is second nature. He gets noticed even when he isn't, as he sings in his big Act II moment, "If someone stood up in a crowd and raised his voice up way out loud and waved his arm and shook his leg -- you'd notice him." Grey's performance as colorless Amos, Roxie Hart's milquetoast husband, will surely gain him a fifth Tony Award nomination -- if not another win.
Grey, at 64, but amazingly looking 10 to 15 years younger, is one of Broadway's most loved performers. He's not surprised the 1976 musical is a hit again -- brought to Broadway in a sparse, yet exciting, staging after the accolades heaped on it last May as part of City Center Encores! Great American Musicals in Concert. "For the last twenty years, Broadway's hit musicals have depended on such trappings as special effects -- crashing chandeliers, whirling helicopters," he says, "that you might forget what musicals are all about. The score! And there hasn't been a score this good in many years," he says. "Of course, I'm a little partial to Cabaret! Kander and Ebb just write the best material. This is going to be quite a season for them, not only with Chicago but also with their much anticipated Steel Pier. Another reason for Chicago's audience appeal is that it's also a cynical story set in a cynical time and is perfect for our cynical times." What Grey enjoys most about theater is "the challenge to create something that will transform the audience and make them leave the theater just a little bit different from the way they came in. You know there is a bit of mystery in creating any show, but especially a musical. It's not dissimilar from a jigsaw puzzle. You work at it until you find out how all the pieces fit." RCA has captured the murder, greed, violence, and sheer virtuosity of all of Chicago's jazz with its original cast [Ann Reinking, Bebe Neuwirth, James Naughton, Marcia Lewis, and Grey] CD, produced by six-time Grammy-winner Jay David Saks.
By the way, Grey has made another contribution to his family's theatrical roots. His daughter is Jennifer Grey, who proved she inherited a few musical and dance instincts in the movie "Dirty Dancing."
[END]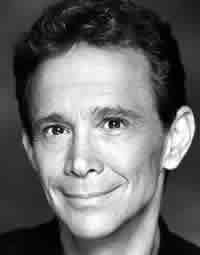 Key Subjects:
Joel Grey, Chicago, Cabaret
Writer Bio:
Ellis Nassour contributes entertainment features here and abroad. He is the author of "Rock Opera: the Creation of Jesus Christ Superstar" and "Honky Tonk Angel: The Intimate Story of Patsy Cline," and an associate editor and a contributing writer (film, music, theater) to Oxford University Press' American National Biography (1999).
Subtitle:
Everybody Knows He's There