"All I'm asking for is a tune, Something itchy to tap my toes to... I'll tell you why I love to make music: I feel like I belong."
That's William Finn expressing his love affair with music. It's part of his lyric for "Mister Make Me a Song," the first band on the RCA album "Infinite Joy: The Songs of William Finn." This new CD is a live recording made during two evenings of cabaret at Joe's Pub at New York's Public Theater in January 2001. It includes songs from five Finn shows, past and future, and some newly-written, personal songs, which the composer sings with an extroverted, colorfully gravelly voice.
Finn says that he's not a good pianist nor singer ("I have a frightening voice"), and he's known to speak in a rambling manner, blurting out what's on his quick mind. Not what one normally looks for in cabaret, where precision and polish are valued.
"People who know me well think that the title is not appropriate for one of my shows," says Finn. "Rather, they say, call it desiccated joy or circumscribed joy or itty-bitty joy." He refers to his reputation for complaining. "But what gives me unending pleasure, infinite joy, is a well-made song, and I've written some well made songs. That may sound like I'm bragging, but I don't care."
He teaches the writing of theater songs at New York University's Musical Theater Program and was artist-in-residence at Goodspeed Opera House in Connecticut. Finn won two 1992 Tony Awards for the best score and best book on Broadway for his musical, Falsettos. His most recent show, A New Brain (staged at too small a house to be eligible for Tony consideration), is equally good.
The title of the album comes from one song Finn wrote last summer about his mother, the late Barbara Cohen Finn. "A wonderful woman. One of the most positive people I ever met." Admitting that he's gone through angry, depressed periods, Finn says his mother was different: "She thought that being depressed was a wasteful luxury."
Barbara was an attractive blonde woman of 69 when I saw her at a workshop of A New Brain in 1997, the year before the show premiered at Lincoln Center. She was suffering from pulmonary fibrosis, but was exuberantly happy to be seeing her son's work. Especially because it was a play written after Bill Finn recovered from brain surgery and was about a composer who survived a similar crisis. As we parted that afternoon, she told me and my wife, and everyone else who was around, that she looked forward to seeing us at the opening. We didn't realize that her heart had become progressively worse and a transplant was denied her because of her age.
As opening night approached, it became clear that Barbara couldn't travel to New York for it. She didn't want extraordinary measures and gave Bill the impression that she had made a deal with God when her son was critically ill, to exchange her longevity for his. Bill went back to Massachusetts to be with her, and, on a Sunday late in May, as he writes in another new song, "In a very quiet way, the earth stopped turning."
The album's title song, catchy and inspirational, celebrates her effect on his life. Finn describes it as "a big, big, beautiful number." It was sung at Joe's Pub by Liz Callaway on a Sunday night and by Norm Lewis the following evening. Both of them are heard on the RCA CD. While "Infinite Joy" is a fine song, "The Day the Earth Stopped Turning" is even better: a great song with poetic lyrics, sung by Carolee Carmello. Its haunting minor chords are unlike anything he wrote before, and the imagery of a "Do Not Disturb" sign signifying death is arresting. The songwriter paraphrases Barbara:

"Now throw away your hate /
And focus on what's great instead. /
I'm dying, so there's no time for debate..."
In the middle of the song, Finn makes a surprising shift from second (using the word "you") to third person ("she") and from present to past tense as his story moves from past to present. What may seem like a strange confusion of time actually comes across as a reminder of how the past is still with us.

"The world is good, she said. /
Enjoy its shit, she said, /
`Cause this is it, she said. /
So make a parade of every moment. /
Now pull up to the curb; The sign Do Not Disturb's ahead. /
The truth is that you made my life superb, she said."
The release of this song collection invites a look back at Finn's career. Born in 1952, he grew up in Natick, Massachusetts. Though the last name may sound Irish, Finn was the name given to his Jewish grandfather when he came to the USA. Bill's parents, Jason and Barbara Finn, never gave him (nor his sister and brother) music lessons. When he got a guitar for his bar mitzvah, Bill taught himself to play and hung out with friends playing and singing folk music and making up his own songs. During high school, Bill taught himself piano and gave up guitar, because "Try as I might, there's nothing rock about me."
His father had a gambling problem, just as did the father character in A New Brain. His parents fought a lot, and laughed a lot, then divorced when Bill was in college. Finn majored in English Literature at Williams and performed in the school show in his freshman year. When he improvised new material "I made everything funny." He so impressed the other students, they asked him to write music and lyrics for the next show. At first, Bill resisted the assignment because he didn't know notation. But he found a way. And he found what he most enjoyed in life.
Six foot three, black-bearded and imposingly handsome, Bill loved to perform but had no opportunities. After graduation, he had various odd jobs. "I wrote for an airlines magazine, and I was a bartender; a very slow, bad bartender," he tells us in conversation soon after the show at Joe's Pub. He did in fact hitch-hike across America, as in his song with that title. It has a happy, swinging tune which Lewis Cleale belts out on this recording.
"I like that number. It starts as a story song and ends as a love song," Finn boasts. He cautions that his first-person songs can't be taken as literally autobiographical. "I write from a very personal place. My songs are emotionally true but not biographically true." For example, unlike the lyric in the song "Republicans," he never went to bed with a Republican. His lyric says: "To be screwing a Republican is damn unappealing, but I can't help the feeling that it's nice to have the roles reversed."
Many theatergoers assume the character of Marvin in Falsettos is Finn, while he based it only loosely on his own life. Unlike Marvin, Bill was not married before he discovered he was gay. Another example is in A New Brain. The fictitious Gordon Schwinn is an unsuccessful songwriter toiling for a kids' television show. But the real William Finn was basking in the critical and financial success of Falsettos when he became ill. Also, Schwinn collapses over a platter of ziti in a restaurant. The truth is that Finn collapsed on the sidewalk outside an Italian restaurant. But, despite all that, the personalities of Finn's main characters are much like his own.
Finn says that his early songs were simpler and not as good as what he wrote later: "My early stuff was presentational, Brechtian. When I began to get personal, my songs got better. I like to write songs that tell you the story of a life in three or four minutes, where a panoply of emotions is expressed, but also where real craft is demonstrated."
Listeners would not be surprised by Finn's vocals on this CD if they knew what a performer he was in earlier years. In 1978 he wrote In Trousers, subtitled "The Marvin Songs," about a neurotic, funny, gay Jewish man named Marvin, whom Bill played in person. Most of the songs in that show include a vocal by Marvin. He dominates the show, narrating, describing his actions in the third person, and moving back and forth between adulthood and himself as a 14-year-old.
"Three friends of mine who are singers -- Mary Testa, Kay Pesek, Alison Fraser -- and I performed the music four times in my apartment, served grapes and got offers," says Finn. "The show took off, and as it got bigger I had to choose between performing and directing it, and I surprised people by choosing to direct." Chip Zien became Marvin for a Playwrights Horizon production in 1979. In Trousers has an original cast recording, but two of its songs are reprised on this new album. Mary Testa is even stronger and more soulful in 2001 than she was in 1979, when she sings "Set Those Sails." Stephen DeRosa leads the hilarious "How Marvin Eats His Breakfast." Zien is a definitive Marvin and he sounds properly disturbed and angry in the 1979 recording, while the 2001 DeRosa is more playful.
Michael Starobin was the pianist for In Trousers and, when the show expanded, he orchestrated it and conducted the band. He worked on almost every Finn show since, and he sheds some light on Finn's working methods: "He's not a trained musician but he has his own way of writing down the notes. I'll go over to his place and tape him, or sit in his apartment and take down what he plays and sings. He knows exactly what he wants. When he played a song from In Trousers, "Nausea Before the Game," it had a very tricky rhythm, the most quirky piece I've ever heard. I notated it as 12/8 time, which is unusual in itself, and Billy said, `No. This isn't what I want.' He actually wanted something that doesn't exist: 11-and-a-half/8 time. He makes his own music."
Finn impressed critics in 1981 when his March of the Falsettos made its debut at Playwrights Horizons. In it, the Marvin whom we met in In Trousers leaves his wife for another man and has to deal with the confusion of his son who is preparing for a Bar Mitzvah. "I played Marvin in the first reading of March of the Falsettos," says Finn. "That's the last acting I did." Frank Rich wrote of the show in The New York Times: "The songs are so fresh that the show is only a few bars old before one feels an unmistakable, revivifying charge of pure talent."
Finn's music was distinctive in the way he combined word play, metric surprises and unpredictable line lengths with direct, emotional melody. His subject matter was revolutionary. For the first time, a musical-theater songwriter wrote about gays and about contemporary Jews -- not just long ago and faraway Jews as in Fiddler and even the more-recently-set Milk and Honey. In addition, they were Jews with Jewish lives, like Finn himself, wrestling with the meaning of Bar Mitzvah and the existence of God. (How odd that with so many Jewish songwriters around, no one else writes musicals about contemporary American-Jewish family life.)
In his new play, Claudia Lazlo, Arthur Laurents has his ingenue stress that she isn't Jewish, she's a Jew. Well, Bill Finn makes it clear that he isn't just a Jew, he's Jewish. "I like being Jewish, and I celebrate it in my work."
Nine years later, Finn continued the story of Marvin and his extended family in the one-act Falsettoland, and it was combined with March of the Falsettos to make the Broadway hit Falsettos in 1991. Stephen DeRosa sings every role in the quintet from Falsettos, "The Baseball Game," where Jewish boys who almost know Latin are battin'. This comic performance is the only reminder of Falsettos on the album, because Finn's most-performed show doesn't need reinforcement. Some of his other works do.
Two of the songs in Infinite Joy were written for a show that occupied Finn's attention through most of the 1980s. It was called America Kicks Up Its Heels when it was presented as a vaudeville about Jews during the Great Depression at Playwrights Horizons in 1983, then re-done with black characters as Romance in Hard Times at the Public Theatre in 1989. It closed after only six performances. Some reviewers called it "whimsical" or "wacky" and complimented its "charming buoyancy and deliberate silliness." David Barbour in The Bergen Record praised its "exciting, eclectic blend of swing, gospel and pop sounds." Leida Snow on WINS radio was less complimentary and described the score as an uneasy mixture of Three Penny Opera, Dreamgirls and Porgy and Bess. Michael Feingold in New York called it "the worst wonderful musical -- or perhaps I mean the best idiotic musical -- I've seen in years...something like a Road Runner cartoon with a screenplay by Victor Hugo."
Some of Bill's friends say that its music is Finn's masterpiece and refer to the show as "pure Finn," meaning without Lapine.
Finn understands: "A friend of mine, a Polish avant garde movie director, told me that Romance in Hard Times was great, but Falsettos was bourgeois shit. Romance was a very out, very avant garde celebration of life."
Lillias White told Playbill On Line: "One of my favorite parts was in Romance in Hard Times. It takes place during the Depression and was very zany. I played a woman who had conceived a baby and decides to hold it until the world is a better place. The music was brilliant, brilliant, brilliant. Every time I talk to Billy I say, "Let's do this one again."
Mary Testa sings "All Fall Down," the lament of a woman whose husband left her, which Finn taught her for a club appearance in 1982, before America Kicks Up Its Heels opened. Its mood is the flip side of the wife's lament in Falsettos. Testa's abandoned wife is angry, unaccepting and doesn't see any humor in the situation; and Finn's music is turbulent, almost violent.
Wanda Houston sings a gentler song from that show, the lullaby "That's Enough For Me."
Andre Bishop, artistic director of Lincoln Center, says that the score of Romance in Hard Times must be recorded, but Finn says no. He thinks the public wouldn't understand what's going on and says the show should be re written: "It needs to be Lapinized, structured. That's what Lapine does for my shows, he pulls them together and structures them."
Lapine explains: "My strong suit is structure. That's what I bring to the table. I contribute to storyline and character. I give him feedback and sometimes ask him to write a new song. But he writes all the words and music." "One other thing that Lapine does for me," Finn adds, "is get me unstuck. He's a wonderful writer, and he has an unbelievably fertile mind, so that when I sit and whine, `I don't know what to do,' he goes 'Well, what about this, or what about that' or 'Make him a frog' or something. So it's a way to get unstuck."
Starobin says that Finn wrote "three or four scores' worth of songs" for America Kicks Up Its Heels and Romance in Hard Times. But finding all the music he wrote would be difficult, says Finn. "When a show closes I get so depressed I say to hell with it and I throw things away."
Where did he ever get that idea? People who saw A New Brain will remember that his alter ego's mother, trying to keep busy while her son lay dying in a hospital, cleaned his room and threw out his books. Barbara Finn told us, at a reading of A New Brain, she really did do that.
One of the most beautiful love songs in years is Finn's ballad "I'd Rather Be Sailing." When it was written for A New Brain it was sung affectionately in a scene of the composer in bed with his lover. But when the show premiered the song had been re positioned so the lover, alone, made his entrance with it. In that context, "Sailing" lost some of its romantic impact. It's sung here by Liz Callaway, whose floating soft notes maximize the song's caressing tenderness.
"Anytime" was written for A New Brain, originally meant to be sung by Chris Innvar as the composer's lover, but he already had a ballad, "I'd Rather Be Sailing," so the song was assigned to Malcolm Gets, as Schwinn, to sing over a loudspeaker as he's being wheeled into surgery. Clearly that didn't allow the song to be heard properly. Producer Andre Bishop says now that "Anytime" was cut "because it caused the show to emotionally peak too early." Bishop admits that "one has to wonder what anyone was thinking of" when it was cut, while Finn complains that it was excised against his wishes while he was out of town attending to his mother. The romantic ballad is sung gorgeously on the recording by Norm Lewis.
Discussions of A New Brain usually say that the play is about brain surgery. But, really, the show is about creative frustration, and all the songs we never get to write, whether because of illness or emotional blocks or procrastination. Because this theme is universal, and because the score has so much richness and variety, the show should enjoy a bright future. Finn says it is his favorite. Although I was moved by a two-piano performance of it, and Starobin's seven-piece orchestration is lovely, Finn imagined it with a big orchestra and in a larger theater. He complained when it was booked into the smaller of Lincoln Center's two spaces.
Finn is depressed right now about the fact that he has no new show on the boards and his income has narrowed to a trickle. Falsettos made him a lot of money, but these days there are few professional, royalty-producing productions of it. "I need more money," he says, "and I don't mind you quoting me. I have enough to live on, but I want money to buy gifts for friends and family members. Until now, I've never cared about money and I've made all the wrong career choices for making money."
The Royal Family of Broadway has been in progress since 1994, Finn's been involved since 1998 and the delays are making him unhappy. He enjoyed writing songs for it, but was mystified by some of director Tommy Tune's casting ideas. For example, Julie Harris as the female lead, the part based on Ethel Barrymore. "Didn't anyone wonder why she didn't make her career in musicals? I told Tommy that maybe the part didn't require a great voice, but she had to hit the notes, and he just said, `There goes Mister Negativity again.' He always called me Mister Negativity."
Finn has stayed with the project mainly because he's pleased with the song he wrote for the leading lady:
"Reading papers when there ain't a review /
Is a stupid thing and I won't do it."
When Finn writes lines like these, you wonder if it's the character or himself:

"Living life like a normal person /
A stupid thing; I won't do it..."
"I live with passion, joy and rage /
The only time I feel alive is when I'm on the stage."
Finn sang this at Joe's Pub, and the performance is on the CD, with ferocious energy that will be hard for any actress to equal.
Tune dropped out of The Royal Family. Jerry Zaks came in to direct and Richard Greenberg to write a new version of the book. In Spring 2000 I discussed his hiring of Finn with the producer, Barry Weissler, who had put Falsettos on Broadway. "I know the play isn't about gays and no one's dying," said Weissler. "The play is about a theatrical family. But think about it. Theatrical people are outside the mainstream of society. They are people who express themselves at a higher pitch than most of us, and no one writes better from that perspective than Finn. He's the perfect person to write for these characters."
Lapine thinks Finn was a good choice for the assignment "because he has such a love of the theater, and because he writes great women's roles, and this play calls for that."
Richard Greenberg, like Finn, is an outsider with a quirky view of life. His 1998 play, Hurrah At Last, took a surreal look at a hospitalized writer, somewhat similar to Finn's protagonist in A New Brain. But after a workshop reading of The Royal Family last year, people in control of the rights wanted a less-wacky, more literal story line, a more traditional musical play. So Lapine was brought in to rewrite and give it that tone. As of June 2001, the project still needs negotiating and casting. This year's biggest hit is about producers, so why not a blockbuster about actors?
(By the way, Finn always is aware of other peoples' work in the theater. One of his funny lyrics has the brain surgeon in A New Brain rush off because "My wife and I have tickets to Chicago.")
The recording producer for "Infinite Joy" is Jay David Saks: "I never properly appreciated his work until I saw this review and heard the old and new songs that're in it. I was blown away. Brilliant, quirky, bizarre, interesting. His songs are emotional, heart-on-sleeve. But Bill never seems to know if people appreciate his music. He often asks: `Did you like my song?'"
"Billy worries about his work and whether it's being treated well," says Starobin. "In the past, his dark moods were because of career frustrations. He struggled for ten years on one show, Romance in Hard Times, and then the critics didn't like it. There was anger that he wasn't recognized, like the angst of Marvin. But unlike Marvin, this doesn't dominate his life. In his personal relationships, he's happy and fun to be with. He's so charming. He makes you laugh."
He's cured of the venal malformation in his brain and is in excellent health. In the past, Finn has been a big eater, but now he looks trim. And he's celebrating twenty years in a monogamous relationship with New York businessman Arthur Salvadore.
Finn is writing songs for a review with the working title Elegies and Love Songs. And he has ideas for a new book show that's in too early a stage to discuss. What project will come first? "Whatever someone pays for."
Another song that he wrote this summer is "The Ballad of Jack Eric Williams," a eulogy for a dead, unsung songwriter who lamented that his music "isn't exactly the flavor of the day." This lyric resonates with me, because I remember Finn saying, a year ago, that the world had passed him by, that "dreck" was being produced while his work wasn't. At "Intimate Joy" he was in a sunnier mood. How can he not be, when he sees how the room is packed and how every song receives cheers? "Yes, people love me," he says to me. "A little."
[END]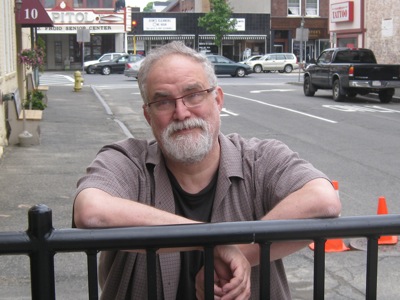 Key Subjects:
William Finn, Falsettos, A New Brain, Romance in Hard Times, Michael Starobin, James Lapine, Infinite Joy
Subtitle:
The Finite Joy of William Finn